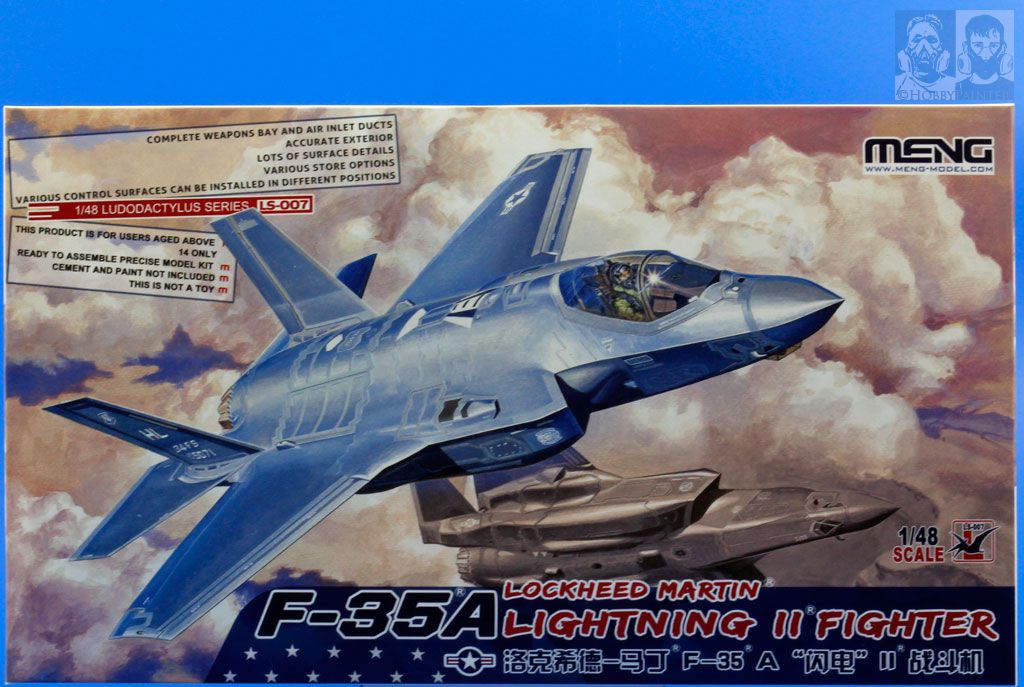 With its new F-35, Meng offers a new highlight on the modeling market. Just by the first glance into the box one can tell that there's a lot of bang for the bucks.
Let's check out if Meng's still able to do fine aircraft kits after lurking around in the armour department for so long now.
Manufacturer: Meng
Product No.: LS-007
Category: Kit
Released: 2017
Price: $ 40 – 60
Box Content: 13 grey sprues, 1 clear sprue, 1 small PE-card, 1 decal sheet, 1 instruction booklet, 1 double sided painting template
Short Background Story
The Lockheed Martin F-35 Lightning II is a family of single-seat, single-engine, all-weather stealth multirole fighters. The fifth-generation combat aircraft is designed to perform ground attack and air superiority missions. It has three main models: the F-35A conventional takeoff and landing (CTOL) variant, the F-35B short take-off and vertical-landing (STOVL) variant, and the F-35C carrier-based Catapult Assisted Take-Off But Arrested Recovery (CATOBAR) variant. (…) The program is the most expensive military weapons system in history.
So let's be happy we're able to get this bird for clearly less than $ 95,000,000 and have a look at
The Kit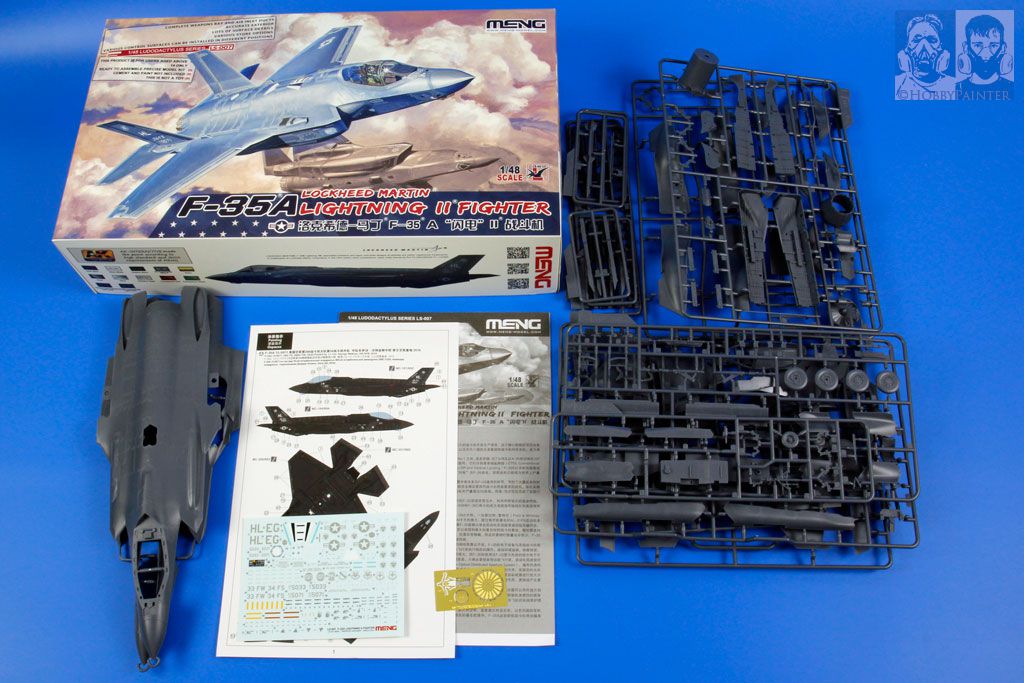 Meng delivers a well stuffed box. It includes around 220 parts on 14 sprues, upper and lower fuselage shells, a tiny PE-card, decals (printed by Cartograph) for two machines and the instructions of course.
When it comes to Meng we expect high quality cast parts with sharp contours and fine recessed details. And we don't get disappointed by looking at the parts. The panel lines are sharp and delicate, the positions of the ejector pin marks are well-thought-out and shouldn't be visible after assembly. The most eye-catching feature of the kit are the Radar Absorbing Material-surfaces (RAM), those raised zig-zag-patterns are sadly way to prominent. They protrude 0.15 mm from the rest of the surface; doesn't sound that much, but in 1/48 that'd be 7.2 mm on the real thing. That would cause some serious aerodynamic issues for sure. This unfortunate 'feature' can also be found on the competing kits from Kitty Hawk (1/48) and Italeri (1/32). Hard to tell why Meng had to copy it.
The fuselage consists of an upper and a lower shell. The lower shell holds all the openings for the weapons bays, landing gear bays and engine intakes. The engine nozzle is nicely detailed and shows all the features you can expect from modern ejection molding, plus a little help from the PE-card. More can only be done with resin, but I'm sure we don't have to wait for too long until the usual suspects come around.
The cockpit of the F-35 is a hi-tech design and consequently plain looking, so you can't expect too much from the model's CP-design either. The instrument panel is nothing more than a wide-screen monitor that's to be covered with a decal. The side consoles contain the thrust regulator and control stick. The ejection seat looks solid for a styrene one and can be further detailed with the PE-belts.
The one-piece canopy is made of thin and crystal clear material. Neither flow-marks nor scratches are detectable. To complete this part the inner framework has to be glued in. The builder can choose between open or closed position.
The landing gear looks as plain as the CP. That can't be traced back to the lazyness of Meng's kit designers but to the simplicity of the F-35's components. The tires come with a weighted appearance, that's a plus. Unfortunately the details on cap and rim look a bit shallow. On this point we have to wait for rescue from our Czech friends.
When it comes to armamet Meng acts pretty reserved. Only GBU-53 bombs and AIM-120C rockets are included to equip the internal bays. Though there are wing pylons included, you can't find anything in the box to arm them. Looks like Meng wants to sell us one of their separate armament sets  (SPS-043, SPS-044 and SPS-045). That may be annoying for some of us, but on the other hand they're selling this kit for a reasonable price and for that sacrifices are to be made. Also the most F-35A we've seen on photographs so far lack the external stores.
Marking Options
First things first: Decals are printed by Cartograph in Italy and therefore the best quality you can get on the market. The sheet is small (120 x 90 mm) since there's not much going on on those modern jets. Two Air Force Jets are depictable, if you're more drawn to one of the foreign operators you have to spend some extra money. Would've been nice to see at least one customer aircraft on the sheet, since there are so many of them (Australia, Israel, Japan, Netherlands, Italy – just to name a few). So here are your choices:
F-35A 13-5071, 34th FS, 388th FW, USAF – Hill AFB, 2016
F-34A 11-5033, 33rd FW – Eglin AFB, 2015
The instructions are structured in 29 steps, all text is bilingual in Chinese/English. Clarity is adequate, so is the print quality. We surely can work with them as they are, but they're clearly inferior to those who come with the Eduard or AMK kits. A separate sheet shows the two offered schemes. Nothing too fancy there, since both are covered in Stealth Camouflage Grey. Color callouts relate to the products from Meng (AK Interactive) und the Mr.Hobby/Gunze (Water Based Acrysion line).
Conclusion
Meng put a great kit of the F-35A into the box. Shape and outlines matches the original quite well, which was a problem of the first kits (Panda), who came out before good reference material was available. It's all there you need to build a great ooking model of this stupid expensive fighter, maybe some resin tires could be added. We got our kit for unbeatable € 30 ($ 36), but any offer below $ 50 is a bargain for such a well designed kit. The only real  issue are those too prominent RAM-surfaces. This can be overcome by using one of the already available mask sets (Galaxy Model D48003 or DNModels 48/827-035). After you put them on, shoot the surface with filler (Mr.Sufacer 1000 for example) in some thin layers and you should be fine. Hopefully Meng will come back soon with another winged kit. They're pretty good at making them!